Archaeologists 'find Pictish palace' in Aberdeenshire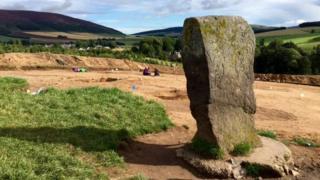 Archaeologists excavating a field in Aberdeenshire where standing stones were found believe they have uncovered the entrance to a Pictish palace, BBC Scotland has learned.
The University of Aberdeen team is digging at a site where the so-called Rhynie Man stone was discovered in the 1970s.
The settlement is thought to be an Iron Age Royal fort.
Dr Gordon Noble said Pictish items had been found, as well as structures.
He described the discoveries as "fantastic evidence".
More can be heard about the excavation on BBC Radio Scotland's Out For The Weekend on Friday between 14:00 and 16:00.