Braemar Gathering to celebrate 200th anniversary of games society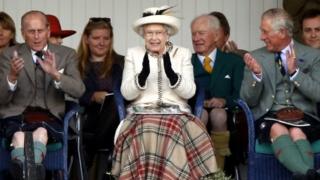 Thousands of spectators are expected to descend on Royal Deeside this weekend for a landmark Braemar Gathering.
Saturday's event will mark the 200th anniversary of the society which runs it.
The Queen is expected to attend, just days before she officially becomes the nation's longest reigning monarch.
The Braemar Gathering is seen as the biggest event in the Highland Games calendar, and is always on the first Saturday in September.
More than 100 men are retracing the steps of their ancestors as they march from Donside to Royal Deeside, to help mark the bicentenary of the Braemar Royal Highland Society which was formed in 1815.
Made up of members of the Lonach Highlanders and the Lonach Pipe Band, the group will march 14 miles to Braemar Castle and camp overnight before attending on Saturday.