Lone yachtsman adrift near North Sea platform rescued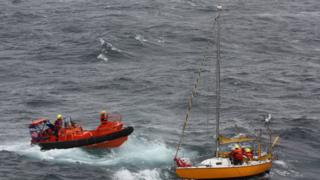 An 82-year-old yachtsman whose stricken boat was drifting towards an oil platform has been rescued after a major operation was launched.
The 25ft Harrier of Down lost steering on Tuesday evening about 100 miles off the coast of Shetland.
It came within half a mile of Total's Alwyn North platform.
A Norwegian coastguard vessel was sent to the scene to take the yacht under tow, but bad weather hampered the operation.
Yachtsman Julian Mustoe, who is believed to live aboard the boat, was later safely taken on board the coastguard vessel, and his yacht was taken under tow.
He had earlier refused an offer to be airlifted to safety by a Norwegian helicopter.
Mr Mustoe, an experienced sailor, has previously written a book about his circumnavigation of the globe, retracing Charles Darwin's voyage of The Beagle.
The alert was raised shortly before 20:50 by the crew of an offshore supply vessel.
They were concerned for the safety of the yachtsman, believed to be sailing from Lerwick to Norway.
A diving support vessel moved alongside the yacht while the Norwegian coastguard cutter was sent from Bergen.
Shetland coastguard, which was coordinating the operation, said it had been made much more difficult because of the weather conditions.
A Total spokesperson said: "Last night a small yacht was reported to be drifting within a half mile of Total's Alwyn North platform.
"The Coastguard and the Alywn North's Emergency Response Vessel (ERV) offered support to the yacht.
"At all times the situation was closely monitored and under control by both the coastguard and the ERV.
"The Alwyn North platform did not go to muster and no plans were made for evacuation."