Rescued yacht Harrier of Down sinks during towing in North Sea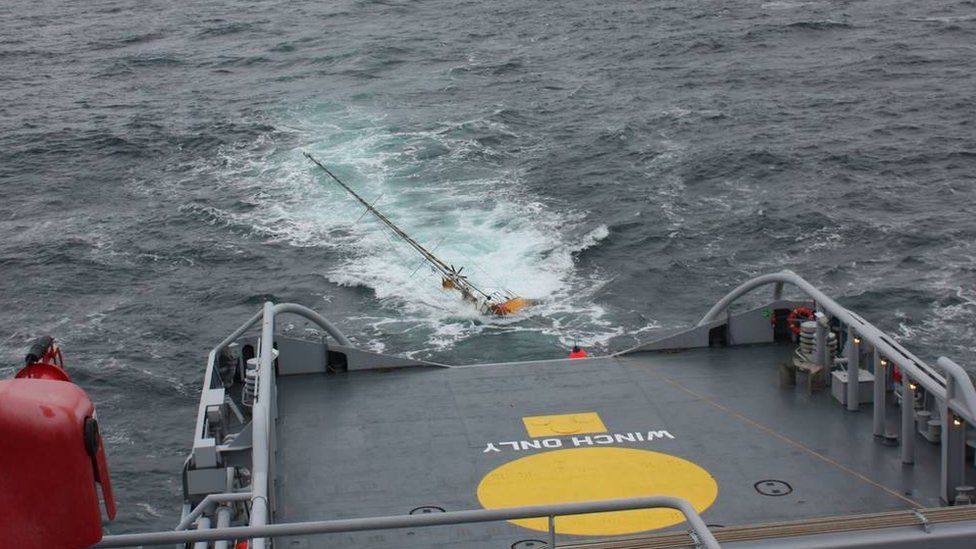 A yacht from which an 82-year-old man was rescued in the North Sea has sunk during attempts to tow it to Norway.
Yachtsman Julian Mustoe was rescued by a Norwegian Coastguard vessel on Wednesday after his stricken boat began drifting towards an oil platform.
The yacht - Harrier of Down - was taken under tow. It came within half a mile of Total's Alwyn North platform.
Coastguards said the vessel took on a lot of water and had sunk to a depth of 300m in the North Sea.
Mr Mustoe said: "All last night they towed Harrier behind the ship successfully.
"But for some reason, and I don't understand how it happened, Harrier began to take on water earlier this morning and at about 9am she sank full of water. They couldn't get her out because the weight was too great. So I was all right in the big ship but my lovely boast has been lost.
"I have lived on her for 10 years - I sailed her around the world. I had great confidence in my boat.
"Some people say to me, weren't you frightened? Well, I wasn't frightened because I knew she was a good boat and she would look after me."
Mr Mustoe lost virtually all of his possessions when the yacht sank.
He said: "I have got my Visa card, chequebook and passport but everything else has gone to the bottom of the sea.
"What I'm going to do with myself, I don't know. I confess that I'm beginning to think my luck has run out."
The 25ft Harrier of Down lost steering on Tuesday evening about 100 miles off the coast of Shetland.
Related Internet Links
The BBC is not responsible for the content of external sites.