Offshore catering ballot backs industrial action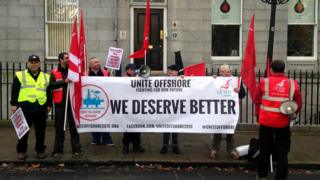 A ballot by offshore catering workers has backed strike action.
Unite members of the Caterers Offshore Trade Association (COTA) were asked if they would be willing to take action over pay.
The result saw 54.2% of votes back strike action, with 62.7% supporting action short of strike.
Unite urged COTA to return to the negotiating table. Members of the RMT union are also being balloted on the issue.
COTA - which expressed disappointment at the result - indicated earlier this year that it was retracting the second year of a two-year pay deal, worth 1.3%, in an effort to secure jobs.
COTA's chairman, Peter Bruce, said detailed contingency plans had been put in place to deliver at the very least a basic service.
The association urged members of the RMT to reject calls for a strike.
Members of Unite staged protests on Wednesday at several firms connected to offshore catering, ahead of the ballot closing.