Fresh offshore offer for catering workers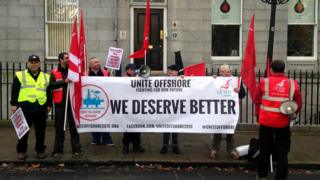 Offshore catering workers are to be balloted on a fresh offer which could resolve a pay row and avert industrial action.
The Unite union said it welcomed the move by the Caterers Offshore Trade Association (Cota).
A consultative ballot will now run until Friday 4 December, with a recommendation to accept.
Last month, members of Unite voted in favour of a strike. That action has now been postponed.
RMT union members voted against strike action but backed action short of a strike.
Peter Bruce, chairman of the Cota, said: "At our meeting with representatives of Unite and RMT last week we discussed a solution which we are hopeful will lead to the resolution of this dispute.
"We are pleased that the negotiation committee from Unite and RMT has now accepted this revised offer and will be encouraging their members to do likewise through a consultative ballot.
"This deal is the best that can be achieved in this tough economic climate and we believe that it is a fair offer for employees. We urge all union members to vote in the ballot once it opens."
Unite regional officer John Boland said: "Following discussions at the request of the Cota employers, our joint trade union negotiating committee will put this offer to a consultative ballot of our Cota membership with a recommendation to accept."