Up Helly Aa fire festival held in Shetland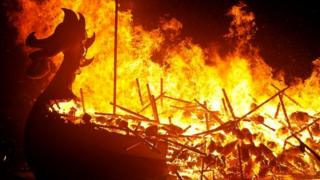 Shetland's spectacular Up Helly Aa Viking fire festival has been held in Lerwick.
About 1,000 men paraded through the streets before burning their replica Viking galley.
Hundreds of visitors arrived in the islands for the annual event.
This year's Guizer Jarl - festival leader - Mark Evans led his squad of latter day warriors, which included a number of relatives all the way from Brisbane in Australia.
Mr Evans portrayed the warrior Solmund Sigurdsson of Tonsberg.
The festival is a descendant of the ancient feast of Yule - which the Vikings held to celebrate the rebirth of the sun.
Are you at Up Helly Aa? Do you have pictures or videos of the fire festival? Send them to the BBC Scotland news website at newsonlinescotland@bbc.co.uk
Please ensure when filming or photographing an incident that you make your safety and the safety of others a priority.
You must have taken and be the copyright owner of any pictures submitted. If you submit an image, you do so in accordance with the BBC's Terms and Conditions