Mintlaw takeaway death chef suffered blow to head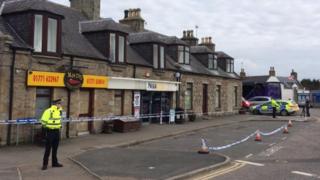 A takeaway chef who was allegedly murdered at his work was killed by a combination of blunt head trauma and heart disease, it has emerged.
Shahzad Shah, 56, collapsed and died following an incident at a kebab shop in Mintlaw, Aberdeenshire, last month.
Hidayet Ozden, 52, from Falkirk, has since appeared in court twice, charged with murder and assault.
Mr Shah's cause of death was "Ischaemic Heart Disease with blunt head trauma".
The information was revealed in Mr Shah's death certificate which was registered by police on Friday.
Mr Shah's employer has revealed the divorcee had been sending money home to his family in Pakistan and was planning to travel back there this month to spend time with his 10-year-old twins.
Shahid Ali, owner of the Mirchi Indian takeaway where Mr Shah died, has set up a fundraising campaign to help his grieving family.
He said Mr Shah was not meant to be working on the day he died.
"He wasn't even supposed to be at work, he usually has Monday and Tuesday off," he said. "I don't know why he was in - perhaps just to help his friend - it's as if fate drew him there. It's been such a shock."
Mr Ali added: "He was so proud of his job. He went the extra mile and his attention to detail showed his dedication and professionalism."