Major Aberdeen International Airport revamp under way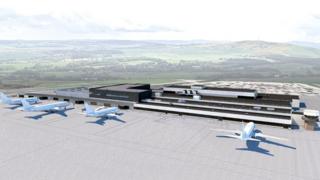 The first phase of Aberdeen International Airport's £20m terminal redevelopment project is under way.
The redevelopment will increase the size of the existing terminal by 50% - its biggest upgrade since it opened in 1977.
It will include new domestic and international baggage reclaim areas.
Two business lounges will also be created, as well as a new security search area, immigration facilities and retail and catering outlets.
The first stages of the plans will see temporary baggage reclaim facilities being opened, to allow construction of a new two-storey extension to the south of the existing terminal building.
The domestic baggage reclaim belt will be relocated to a temporary facility just outside the main terminal building in the lower forecourt.
The international baggage reclaim belt will be moved along with the immigration desks to a new temporary facility on Stand 4.
Customer feedback
Project lead John Deffenbaugh said: "As we know from customer feedback, the current reclaim facilities are no longer fit for purpose.
"The new facilities will provide bigger reclaim belts and a faster, smoother process for our passengers to collect their luggage.
"This temporary layout has been implemented to ensure minimal disruption to our passengers while we work on bringing them the new modern facilities.
"We hope to have the work completed and the new reclaim areas ready for passengers to use by summer 2017."