Aberdeenshire Council joint leader 'sorry' over Denmark trip row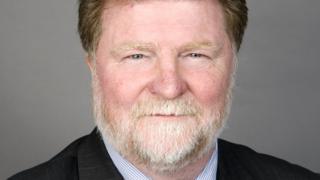 A council leader has apologised after refusing to stay at a major conference in Denmark because the accommodation was not thought to be good enough.
Martin Kitts-Hayes, of the Progressive Independent Group on Aberdeenshire Council, was due to attend the North Sea Commission at the weekend.
His decision led to the council's chief executive announcing the circumstances would be investigated.
He said he now acknowledged his the decision "was a poor one".
Mr Kitts-Hayes is the councillor for Inverurie and District, and is co council leader with the SNP's Richard Thomson.
He said: "As the leader of the delegation, it was my decision that we should return and I take full responsibility for that decision.
"However, it is clear that this decision to return has caused significant concerns, both amongst colleagues, as well as our Danish hosts.
"It was never my intention that this should be the case. However, upon reflection, I acknowledge that the decision to return was a poor one."
Mr Kitts-Hayes added: "Independently of the chief executive's investigation, I will be writing to the organisers of the conference to offer my apologies for any disruption which the decision to return early to Scotland caused to their planned schedule."
It is believed the aborted trip cost the council a four-figure sum.
Conservative group leader Jim Gifford said: "The council has spent a substantial amount of money sending people to a conference that they did not attend and that's the fundamental problem here."