RAF Lossiemouth jets intercept Russian bombers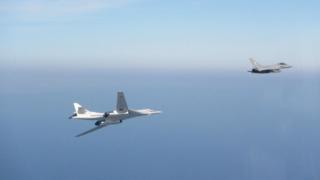 Typhoon aircraft from RAF Lossiemouth intercepted two Russian Blackjack bombers and escorted them while they were in the UK area of interest.
The Russian bombers came from the direction of Norway and passed to the west of Shetland.
The RAF said at no time did the Russian jets enter UK air space.
Typhoon aircraft also launched from RAF Coningsby in Lincolnshire as a precautionary measure, but were not required to intercept.
It was the latest of several similar incidents involving Russian military aircraft flying close to UK airspace.
In November 2015, Typhoon fighter jets were scrambled from Lossiemouth to intercept two Blackjack bombers.
RAF Typhoons from Lossiemouth were also scrambled in October 2015 to intercept two similar aircraft flying over the North Sea.
And in May 2015, Russian "Bear" strategic bombers were intercepted after being spotted north of Scotland.