Sikorsky grounds S92 helicopters for safety checks after incident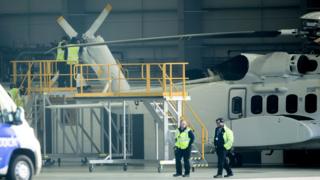 Helicopter manufacturer Sikorsky has grounded all S92 aircraft worldwide for safety checks following an incident on a North Sea platform.
Operators were instructed to carry out the checks immediately, centred on tail rotors.
Many of the inspections were completed by Tuesday afternoon.
The Air Accidents Investigation Branch (AAIB) is investigating an incident on the West Franklin Platform which happened last month.
An S92 experienced a technical fault when it was coming in to land. It left "significant gouge marks" on the deck of the platform.
Sikorsky issued the safety checks instruction overnight.
A Sikorsky spokeswoman said: "Safety is our top priority, and Sikorsky is working closely with our customer and investigative authorities.
"We are committed to keeping our customers informed. We will further communicate findings if the investigation reveals any safety or airworthiness issues that affect the S92 helicopter fleet."
Safety priority
The Offshore Helicopter Safety Leadership Group, made up of operators, unions and industry body, later said operators were expected to have completed the checks later on Tuesday.
An OHSLG spokesperson said: "Clearly the priority is to ensure that both passengers and crew are safe and it is important to maintain a precautionary stance in what is an ongoing investigation.
"As we receive information we will deliver it to our members, clients and the workforce."
The Maritime and Coastguard Agency (MCA) said some of its S92s, operated by Bristow, had returned to service by Wednesday evening with others due to do so shortly.
Aberdeen Airport was reported to be operating overnight to clear the backlog of flights to oil and gas platforms.
The organisation Step Change in Safety, which works to improve safety in the UK oil industry, said it was in "close communication" with the relevant parties.
'Precautionary measure'
The group's executive director Les Linklater said: "The decision made by Sikorsky is a precautionary measure to ensure continued safe flight operations.
"Currently the duration of the inspections is expected to take up to 11 man-hours, which means this will cause some short-term delays.
"We are in close communication with trades unions, helicopter operators and the Civil Aviation Authority."