Parents have two sets of twins born on same day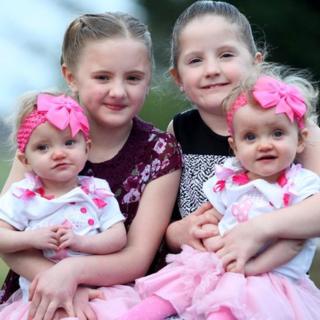 Parents who had twin girls on the same day as their older twins have said they have beaten odds of tens of million to one.
Mother-of-nine Zoe Sullivan, 38, and husband Ben, 42, from Lossiemouth, Moray, had identical Leah and Erin on the same same day as non-identical Charlotte and Isabelle turned eight.
The four girls were all born on 25 January, and Lean and Erin are now one.
Mrs Sullivan - who is expecting child number 10 - said they were astounded.
Mrs Sullivan said one of the new twins had stopped growing in the womb, so she was induced weeks early.
Budget for birthdays
She said: "Our family isn't one in a million, it's one in 30 million.
"By sheer coincidence, they were then born on Charlotte and Isabelle's birthday.
"Now all our kids want babies on their birthdays."
The couple are parents to Elizabeth, 11, Olivia, 10, Charlotte and Isabelle, both nine, Noah, seven, Evangeline, five, Tobias, four, Leah and Erin, one, with one on the way.
Mr Sullivan said: "We've realised that we're going to have to budget for the 25th as it's an expensive day now with four birthdays."