Aberdeen City Council freezes council tax rate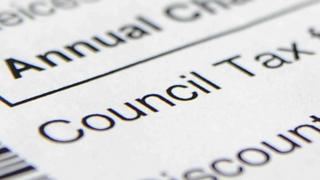 Aberdeen will not have an across the board council tax rise.
Councillors decided against an increase, which could have been up to 3%. However, householders who live in properties in Band E to H will still face a rise after MSPs agreed changes.
It means a Band H property will go up by £553.68.
Council leader Jenny Laing said not increasing council tax was vital in a time of economic challenge. Aberdeen is the largest council not to raise bills.
Aberdeen council tax changes
Band
2016/17
2017/18
Increase
A
£820.26
£820.26
£00.00
B
£956.97
£956.97
£00.00
C
£1,093.68
£1,093.68
£00.00
D
£1,230.39
£1,230.39
£00.00
E
£1,503.81
£1,616.60
£112.79
F
£1,777.23
£1,999.38
£222.15
G
£2,050.65
£2,409.51
£358.86
H
£2,460.78
£3,014.46
£553.68
Voluntary redundancies will be looked at in a bid to make savings.
The budget includes extra money for pupil support assistants, plans for 2,000 new council homes and more than £800,000 for play park refurbishments.
Aberdeen City Council is ruled by a Labour-led coalition.
The SNP and Lib Dems also proposed no council tax increase.
BBC Scotland had revealed last week that Aberdeen was unlikely to have an across-the-board council tax rise.