Lifeboat called to boat hit by 'freak wave' off Shetland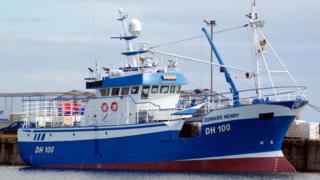 A crab fishing boat with eight crew on board lost power after it was struck by a large wave 40 miles (64.3 km) north west of Sumburgh in Shetland.
The wave that hit the Edward Henry on Tuesday night broke windows and swept the boat's skipper, Piotr Wrublennski, across the inside of the wheelhouse.
Mr Wrublennski said the "freak wave" knocked out electronic devices.
The skipper was able to alert the coastguard and Aith Lifeboat was launched to go to the aid of the boat.
It was possible to start the engine again and the Edward Henry arrived in Scalloway at 07:00 on Wednesday for repairs.
Aith Lifeboat, which was launched at 20:20 on Tuesday, and anchoring handling vessel Nor Solan escorted the crab boat to the harbour.
Mr Wrublennski told BBC Shetland: "It was a freak wave. I haven't seen anything like that before.
"It just hit on the long side, on the starboard side. It took off my windows and damaged my electronic devices.
"The wave took me across the wheelhouse and I found myself after a second or two seconds on the port side. There was glass and wood floating in water in the wheelhouse."
Mr Wrublennski raised the alarm after not being able to hear anything from the rest of the crew.