Aberdeenshire councillors object to Aberdeen FC stadium plans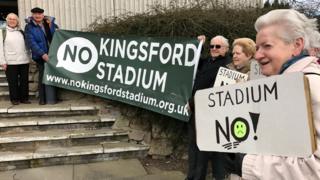 Aberdeenshire councillors have objected to Aberdeen Football Club's plans for a new stadium.
The stadium and training facilities would be built at Kingsford, close to the Aberdeen bypass, near Westhill.
The ultimate decision is for Aberdeen City Council in the summer.
However, Aberdeenshire's infrastructure services committee - of which the authority is a consultee - narrowly voted to object to the application after hearing a debate on the issue.
The vote was tied at seven apiece and the committee chairman cast the deciding vote.
George Yule, executive vice chairman of Aberdeen FC, said: "What we have got to do is ensure any valid concerns are addressed.
"I heard several times that we think it's the right thing to do for Aberdeen, but not in our back yard. As a region, that's unacceptable."
Mike Forbes, from the group Westhill For Kingsford, told the committee the stadium would have undoubted benefits for local business, and be inspirational for children.
However John Simpson, from No Kingsford Stadium, accused the club of riding roughshod over planning policy.
Campaigners against the stadium had staged a protest at the council's headquarters ahead of the meeting.
Their concerns have included traffic and parking issues.
The club believes the new stadium is vital if it is to achieve a sustainable future.