Former police officer barred from contact with woman over stalking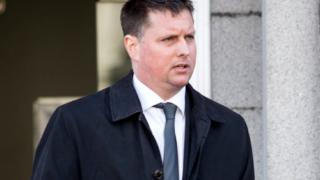 A former police officer who stalked and assaulted a married woman he had an affair with has been banned from contacting her.
Fabian Wright, 39, admitted the offences involving Lynne Davidson at Aberdeen Sheriff Court.
Sheriff Alison Stirling told him he should not contact Mrs Davidson for 12 months.
Wright was also ordered to carry out 180 hours of unpaid work and was placed under supervision for two years.
The relationship - which the court heard was "turbulent" - had begun in 2008 after Wright was released from jail.
He had been found guilty of causing the death of 16-year-old Lisa-Marie Wyllie in Aberdeen in 2005 by dangerous driving while off-duty and was sentenced to five years in prison.
Wright was speeding when he went through a red light, crashing into a car.
The court heard that Wright refused to accept that Mrs Davidson did not want to see him again when the relationship ended.
He repeatedly called and texted her. He also struck her on the head.
The court heard Wright recognised it was a serous offence.