Ship's crew taking court action over wage claims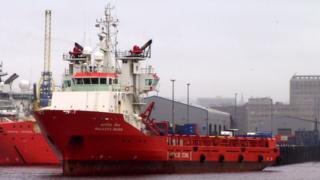 The crew of an offshore supply ship stranded in Aberdeen is taking legal action.
The Malaviya Seven was detained in June last year amid claims workers had not been paid, before being released in August.
The vessel was detained for a second time in October after crew members claimed they were owed thousands of pounds in unpaid wages.
A writ has been served which prevents the ship from leaving Aberdeen harbour.
If the crew's claims are not settled, the vessel could ultimately be sold off.
There are currently 12 men on board, and some have been on the ship for more than a year.
More than 30 men in total are claiming unpaid wages.
The Maritime and Coastguard Agency (MCA) said the offshore supply ship would remain under detention until the issues were resolved.
The International Transport Workers' Federation confirmed that proceedings were under way.