Leak cancels performance in Aberdeen moments before opening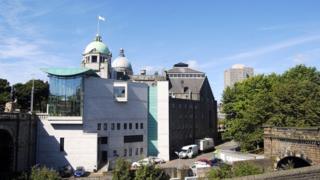 The operator of His Majesty's Theatre in Aberdeen has said it had no choice but to cancel a show just moments before it was due to start.
Rainwater poured into the venue ahead of Saturday's performance of The Crucible.
Aberdeen Performing Arts (APA) said heavy rain combined with ongoing roof repairs led to the issue.
Customers received a refund and APA said no lasting damage had been caused to the venue.
A spokeswoman said: "Due to persistent heavy rain and ongoing roof repairs, we experienced an issue with water entering the auditorium.
"There was a lack of time to resolve this without causing a major delay to the beginning of the performance.
"The show was cancelled and refunds have been issued. There is no lasting damage and future shows will go ahead as planned."