Plans to redevelop Aberdeen's George Street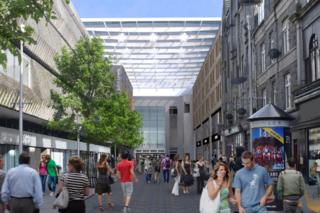 Plans to redevelop part of George Street in Aberdeen have been submitted to the city council.
The owners of the Bon Accord Centre want to build new shops, flats and a hotel on land to the north of the shopping complex.
The plans include the creation of a four or five storey retail block, linking the Bon Accord Centre with John Lewis.
Planning permission in principle has been sought.
The plans include demolishing Santander and Co-op buildings on George Street to make way for new shops and a hotel.
Also, a reconfiguration of Crooked Lane which links Harriet Street with St Andrews Street.
The owners of the Bon Accord Centre said the development would create a new retail destination for the area, and would enhance the environment of George Street.