Woman injured in Lossiemouth chip van explosion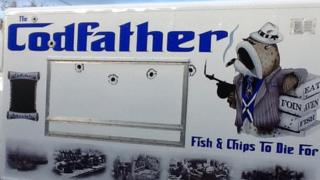 A woman has been injured after propane cylinders inside a fish and chip van exploded.
Firefighters were called to the Mobile Codfather van in Lossiemouth, Moray, at about 19:25 on Tuesday.
Scottish Fire and Rescue said the cylinders had exploded after a fire inside the van.
The woman was treated by the ambulance service but her injuries are not thought to be serious. The fire was put out by about 20:00.
A spokesperson for the Mobile Codfather posted on the business's Facebook page: "Everyone OK bit shaken.
"We can't thank everyone enough for their help. Also apologise to all neighbours round about for the scare.
"The van will be off the road till further notice but we will keep you all updated."