Insch crash microlight suffered total loss of engine power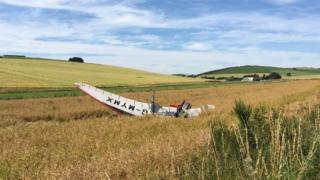 An Aberdeenshire microlight crash which left the pilot injured happened after it suffered a total loss of engine power, an investigation has found.
The incident happened in Insch in August last year.
The Air Accidents Investigation Branch (AAIB) said the 59-year-old pilot lost power and decided a field was the best landing option. The microlight struck the ground and flipped over.
The cause of the power loss has not been identified.