Orkney diver: Missing Ivan Doychev 'appreciative' after 11 hour search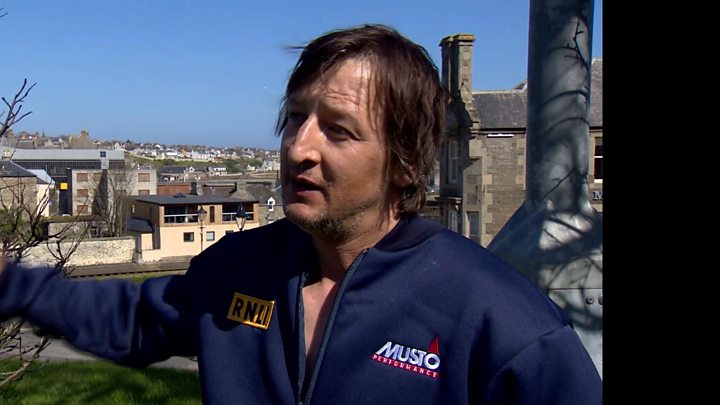 A diver missing for 11 hours in the sea off Orkney has been found alive and well after a major search.
Three lifeboats and two helicopters had been involved in the search in the Pentland Firth off Burwick.
The alarm was raised at 17:20 BST after Ivan Doychev, 40, failed to return to a dive boat.
He was found early on Thursday by Russian sail training vessel Yunyi Baltiets two miles off Duncansby. He said he was "very appreciative".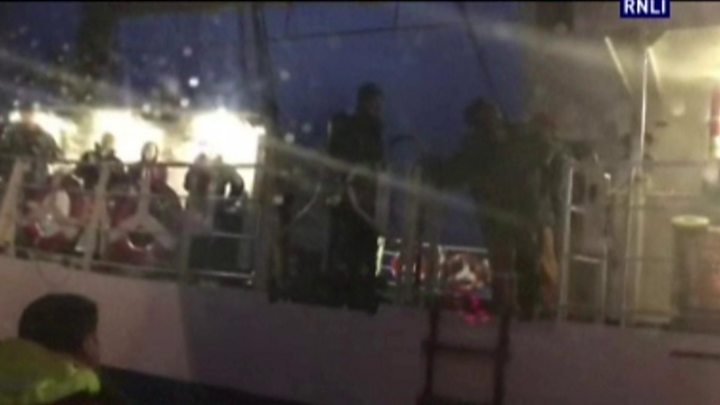 Mr Doychev - a clam diver from Bulgaria who has lived in Orkney for about a year - said: "The tide was too strong, it pushed me out of the islands.
"The first hour was terrible, the tide pushed me out and out and out - I was in the middle of the sea.
"The tides changed and I started to go back.
"I am very appreciative. I could see the choppers and boats. They were far away but I could see them so I knew they were looking for me, which kept me going.
"By my watch, I was in the water for 11 hours and 33 minutes. My advice is to not panic, if you panic you drown."
'Everything is OK'
He added: "I was really cold, I had to swim continuously or be dead. In the end, everything is OK."
NHS Highland said Mr Doychev was in a stable condition at Caithness General Hospital in Wick.
Mr Doychev had been transferred on to the RNLI Thurso lifeboat, and was then taken to hospital via Thurso harbour.
The Maritime and Coastguard Agency, which co-ordinated the operation, said RNLI lifeboats from Longhope and Stromness had also been involved in the search.
The coastguard helicopter from Shetland was later joined by a second aircraft from Inverness.
Coastguard search teams from Hoy and St Margarets Hope and four commercial vessels in the area had also been assisting in the operation.
Gary Harris, who was coordinating the incident at the Shetland Coastguard Operations Centre, said "During search operations at sea, it's incredibly challenging to spot a head in the water especially at night.
"The diver was very fortunate to be spotted by the crew on the sail training vessel Yunyi Baltiets and taken aboard safely."
The Russian sail training ship involved in the rescue had arrived off Scotland to take part in a new festival at Loch Ewe recalling World War Two's Arctic convoys.
The Loch World War Two Festival, starting on Saturday, will remember convoys of Allied ships that left Highland lochs and other locations to supply Russia with food and weapons.
The rescue comes three days after surfer Matthew Bryce, from Airdrie in North Lanarkshire, was found alive after spending 32 hours stranded at sea off the Argyll coast.