Election polling station set up in car in Buckie as building closed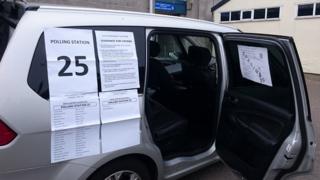 A Scottish council election polling station was set up in a car after the presiding officer could not get into the intended building.
Simone Evans set up the improvised Moray Council polling station in her car outside the Royal British Legion branch in Buckie.
Two of the early arrivals voted in the car before the building opened.
Around the country, people have been voting to elect 1,227 councillors across 32 local authorities.
Moray's depute returning officer, Moira Patrick, praised the presiding officer for her quick thinking.
She put polling station notices in the windows of her Ford Galaxy and, with the ballot box on the front passenger seat, cleared the rear seat so that voters could have privacy to cast their vote.
The reason for the building not being accessible in time for the polls opening 07:00 was not yet clear.