Talks being held on council administrations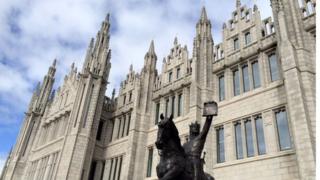 Talks are taking place in Aberdeen, Aberdeenshire and Moray to establish council administrations.
The SNP became the biggest party in Aberdeen on Friday.
The SNP group is hopeful of forming an administration. The Conservatives said productive informal discussions took place over the weekend with the other political groups.
In Aberdeenshire, the Conservatives - who won most seats - hope a decision can be reached in the coming days.
Talks are also expected to take place in Moray.
The SNP - the largest group on the council - and Conservatives will be looking for coalition partners.
In Orkney, Steven Heddle, the convener for the past five years, has ruled himself out of the running for the position again, or for the role of political leader.
The Kirkwall East councillor was re-elected last Friday but said he had decided not to seek election for the posts.