Lib Dems rule out Aberdeen City Council coalition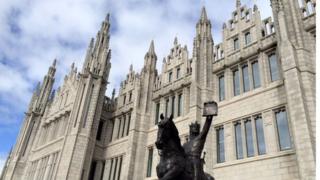 The Liberal Democrats have announced they will not enter into a coalition to run Aberdeen City Council.
The SNP became the biggest party after the local elections last week, but does not have enough councillors to form a majority administration.
The Lib Dems returned four councillors.
Speaking about not entering a coalition, group leader Ian Yuill said: "We will instead consider every issue before the council on its merits on a case-by-case basis."
A total of 19 SNP councillors were elected, up from 16 in 2012, as the Conservatives surged to 11 from three and Labour's total halved to nine. Two independents were returned.
Options left
The Lid Dems were down one to four.
A possible SNP/Lib Dem coalition now cannot happen due to the Lib Dem announcement.
There could be an SNP minority administration, or a Conservative, Labour and independent coalition.
The full council will meet next Wednesday.