NHS Shetland says patients still able to fly for treatment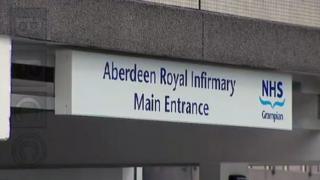 NHS Shetland patients travelling to Aberdeen to attend appointments will still be able to fly.
The health board had planned to send the majority of people by ferry rather than plane, in an effort to save £1m.
It would have meant a 12-hour trip by ferry instead of a one-hour flight, a prospect that sparked a number of public petitions.
At a special meeting on Tuesday, it was agreed to reverse the plans and allow patients to travel by boat or plane.
The board of NHS Shetland was told that, following negotiations, Loganair has agreed to lower fares in a deal that will save £300,000 a year from NHS Shetland's £2.7m travel budget.
It is also hoped a further £250,000 can be saved by reducing the amount of patient journeys undertaken.
Members heard that public petitions against the proposals had attracted thousands of signatures, including one on change.org with more than a thousand names.
Feedback from local GPs suggested at least 4 out of 10 patients would be exempt from taking the ferry due to clinical or social issues.
Videoconferencing
The board decided that all patients would still be offered a choice of flying or sailing.
Managers have now been tasked with looking at how the number of patients travelling to Aberdeen can be reduced.
Work is already under way to increase the use of videoconferencing for consultations with specialists at NHS Grampian.
The plans to make patients take the ferry sparked an outcry when they were raised in March.
NHS Shetland had planned to use NorthLink as its first choice of travel in an effort to save £1m.
The health board said flights would still have been available for those with a specific clinical need.