Disused Buckie shipyard in revival hope after sale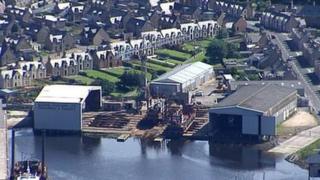 The disused Buckie Shipyard has been bought, giving hope of a revival of the industry in the area.
The shipyard - which dates back to 1903 - went into administration in 2013.
Now Macduff Shipyards Ltd has bought Buckie Shipyard from Moray Council, for an undisclosed sum.
It is hoped the sale could help unlock Buckie harbour's potential as a service and maintenance base for the offshore renewables industry due to activity in the Moray Firth.
Macduff Shipyards managing director John Watt said: "We see a great potential in Buckie harbour in the future.
"We have been providing a restricted service to the marine sector in Buckie these last three years, just launching a 19m fishing vessel which, although it is the fifth vessel we have launched in Buckie, is the first large fishing vessel to be built in the town in 15 years.
"Once the site is fully operation we believe it will complement the council's vision of Buckie being an operations and maintenance port for any future offshore wind opportunities."
Moray Council said building ships was part of Buckie's heritage, and the deal enhanced the prospects of the Buckie harbour area being able to diversify.