Giant Saltire stolen from Trump's Menie golf course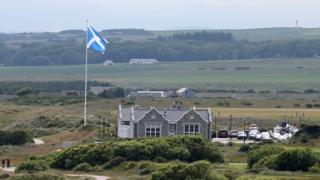 A giant Saltire flag has been stolen from the Trump golf course in Aberdeenshire.
The flag was taken from an 80ft (24m) post at Trump International Golf Links on the Menie Estate between Monday afternoon and Tuesday morning.
Police are keen to trace a white van seen in the area shortly before 22:00 on Monday.
The flag and its pole were the subject of a planning wrangle after being erected without council permission.
Trump International took its case against Aberdeenshire Council to the Scottish government, which later ruled in its favour.