RSPB criticises slow action to tackle Orkney's stoat problem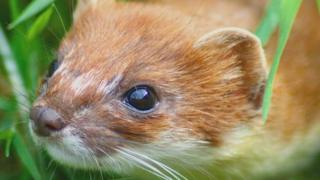 RSPB Scotland has strongly criticised the Scottish government and Scottish Natural Heritage (SNH) for delays in funding stoat eradication in Orkney.
The charity's former director Stuart Housden said the Scottish government had a legal responsibility to protect Orkney's threatened bird populations.
The government said it was committed to protecting biodiversity and SNH said it was vital to get the programme right.
Stoats were first introduced to Orkney in 2010.
There is concern that they threaten ground nesting birds and the Orkney vole - which is an important source of food for hen harriers and short-eared owls.
'Go silent'
Mr Housden, who has stood down as Scottish director but still works for the RSPB, told BBC Radio Orkney: "The whole issue is controversial, and we've got to make sure that the case to eradicate the stoats is strong.
"It's taken a while to get data from other countries.
"But, across the world, introductions of stoats and other predators are causing the extinction of birds faster than any other cause.
"The sound of Orkney will change", he said. "Those curlews, those lapwings, all those species we all hear and love, will decline and go silent if we can't tackle the stoats."
He said the RSPB in Scotland had been "seeking to persuade SNH to act with some urgency", and that it was "taking an age to get the government to engage with this".
Mr Housden estimated that a successful eradication programme could cost up to £5m, and involve thousands of traps being placed across Orkney for several years.
"SNH has now, I understand, submitted a preliminary application to the Heritage Lottery Fund to seek funding from them", he said.
"But it's by no means guaranteed that funding will happen."
A spokesman for the Scottish government said: "The Scottish government is committed to protecting the biodiversity and improving biosecurity in Orkney and all of our island communities.
"Scottish Natural Heritage are working in partnership with the RSPB and others to establish a project to tackle the issue of stoats in Orkney."
Graham Neville, SNH Northern Isles and North Highland operations manager, said the Orkney programme would be "four times larger than any stoat eradication project anywhere in the world".
He added: "And it's unique, because, in Orkney, you've got inhabited islands. There's farming.
"Stoat eradications previously have only ever been done on uninhabited, or very sparsely inhabited, islands."
Mr Neville said SNH had been consulting UK and world experts on how to tackle the stoats, and that had taken time.
He added: "we only get one shot at this, and we need to get it right. We need to do it properly."
But Mr Housden said if action was not taken soon the problem would just get bigger.
"The stoats will spread further afield, onto Orkney's islands," he said. "They'll just, inevitably, get across. And we don't want to see that happen."