Fresh appeal over pensioner's death in Newmachar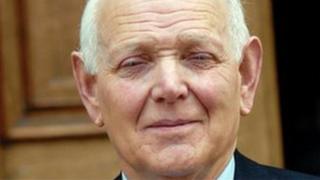 Relatives of an 80-year-old man who died almost a year after being found injured in Aberdeenshire in 2010 have made a fresh appeal for information.
Sandy Ingram was found with head injuries at his farmhouse in Newmachar on 19 June that year after he went to investigate the sighting of two men.
He never recovered and died on 2 June, 2011.
His son Andrew said: "We are still hopeful that someone, somewhere, knows what happened to my father that night."
'Someone out there'
He added: "The last seven years have been extremely difficult for us as a family without him here to share birthdays, Christmases and anniversaries, and even everyday life is difficult as it is always on our minds.
"What makes it even harder is that we don't know what happened to him that night and are still looking for answers.
"We often thought he was trying to tell us things when he was in hospital, but unfortunately the extent of his injuries meant he was unable to speak to us.
"I'm sure there is someone out there who can help us and I would urge them to contact police and tell them what they know.
"Even if you think the information will not be relevant, please let the police be the judge and don't hesitate to get in touch. It is never too late."
'Thorough investigation'
One of the two men seen in the grounds was described as wearing a light-coloured baseball cap, possibly green, with a darker peak.
The other was described as wearing dark clothing and had dark, almost shoulder-length, hair.
They have yet to be identified.
Det Insp Richie Guild said: "As with all long-running inquiries we will react to any new information we receive.
"A thorough investigation was conducted at the time but we have yet to establish what happened to Mr Ingram that night.
Anyone who has information should contact police or Crimestoppers.