Dumping of seagull fledglings in Cults branded callous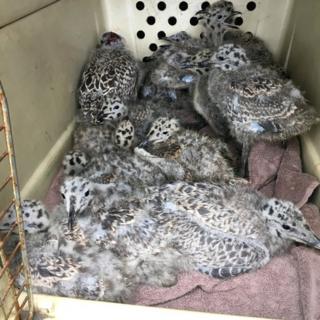 The dumping of seagull fledglings in an Aberdeen suburb has been branded "callous" by an animal welfare charity.
A total of 26 birds were found on Craigton Road, Cults, by a member of the public.
Six had already died, and two were put to sleep following veterinary advice. The remaining 18 are being cared for.
Scottish SPCA inspector Fiona McKenzie said: "Removing these fledglings from their nest was particularly callous."
She explained: "At this age they still rely entirely on their parents for sustenance.
"It would have been a rather difficult task so we know that it's been deliberate. The parents would not have taken well to their nests being disturbed.
"Essentially, whoever did this was putting a death sentence on these fledglings.
"It is an offence under the Wildlife and Countryside Act 1981 to damage, destroy or otherwise interfere with any nest habitually used by any wild bird."