NHS Orkney apology after patients' notes destroyed by mistake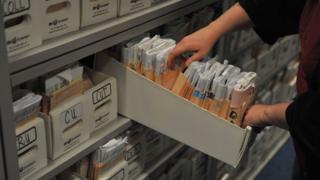 NHS Orkney has apologised to hundreds of mental health patients after confidential notes were destroyed.
The patient notes of 373 people were shredded by mistake instead of being scanned into digital records.
NHS Orkney chief executive Cathie Cowan said there was no breach in patient confidentiality but that records had been destroyed due to "human error".
All the patients involved have been written to and a helpline has been set up to answer any concerns.
Not transcribed
NHS Orkney, in common with health boards all over the country, has an ongoing programme to digitise patient records.
This means changing them from the old paper card system to a new computer database.
The process involves a member of staff reading the information and typing it into a special program.
The old paper records are then destroyed.
However, in this case, 373 patient records were shredded without being transcribed.
Avoid a repeat
The chief executive said: "I regret to confirm that community mental health patient notes held by NHS Orkney have been shredded in error.
"Our investigation has determined that these notes were shredded as a result of human error. A total of 373 sets of notes were affected.
"I am giving this matter my personal attention and would wish to apologise to those patients involved for any distress caused."
Orkney MSP Liam McArthur said: "The accidental destruction of these records is highly regrettable and will have caused understandable anxiety for patients affected as well as the wider public.
"I have urged NHS Orkney to take any steps necessary to minimise the chances of such an unfortunate incident arising again in the future".