Young people urged to stay away from Aberdeen bypass site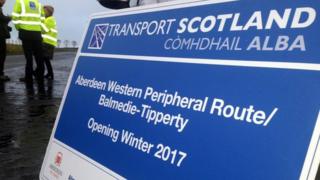 Young people have been urged to stay safe and avoid the Aberdeen bypass construction site over the summer holidays.
Security measures were reviewed after two people gained access to the site and scaled a crane in April.
Malcolm Findlay, general manager for Aberdeen Roads Ltd, said: "We are aware the site could be seen as an attractive place for young people to explore."
A safety leaflet has been made available, warning of the dangers.
Mr Findlay said: "We proactively engage with young people to dissuade them from entering the site throughout the construction phase, and we've spoken to more than 9,000 pupils from across the north east about safety since we started construction.
"However, we would like to ask parents, carers and teachers to have a conversation with young people in their care before the summer holidays get under way and remind them that construction sites can be very dangerous and the best way to stay safe is to stay away."