More than 200 weapon offences with young people in north east Scotland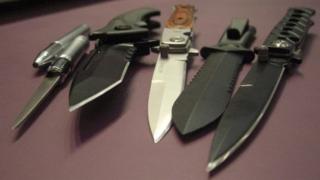 More than 200 incidents of young people having weapons - more a quarter of which were in schools - were recorded in the north east of Scotland in the space of a year.
Police Scotland said 207 were recorded between April last year and March this year, with just over a third involving a blade.
A total of 55 involved schools.
The average age of the children in schools was 12 ,and 93% of them were boys.
Of the schools, 29 were in Aberdeen, 15 in Aberdeenshire and 11 in Moray.
Of the 55 school incidents, 19 were recorded as a crime resulting in the youth being charged.
Police Scotland said a small number of young people admitted they were carrying a weapon to threaten another person or for self harm.
An increased focus on the issue was said to have contributed to a rise in reporting.
'Ignorance not an excuse'
Supt Kate Stephen said: "Young people need to understand that even if they never intend on using a weapon, the act of carrying one could result in unthinkable consequences, not to mention a potential criminal record.
"There is no justifiable reason for ever carrying a weapon and whether or not the intention is to use it is absolutely irrelevant.
"Ignorance is not an excuse.
"We are striving to ensure our schools and communities are safe places for young people to live and learn and to educate them about the consequences of carrying a weapon."
Last year, hundreds of secondary pupils across Aberdeen have been given anti-weapons lessons in the wake of the killing of schoolboy Bailey Gwynne.
Bailey, 16, was stabbed during a fight with a fellow pupil at Cults Academy.
The schoolboy's killer is serving nine years for culpable homicide.
An independent review into the death of Bailey found his death was "potentially avoidable" if teachers had known his attacker carried a knife.