Seventy workers taken off Bruce platform after power loss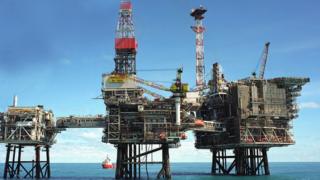 More than 70 workers have been taken off a North Sea oil platform after it suffered a loss of power.
The coastguard was first alerted to the issue on the Bruce installation, east of Shetland, just after 20:00 on Thursday.
A total of 76 people from the 121 on board were taken off the platform and flown to neighbouring installations in coastguard helicopters.
Forty-five workers stayed on the platform in a bid to restore power.
BP said work to restore power was ongoing.
A Coastguard spokesman said: "Following a loss of power on the Bruce platform off Aberdeen late on Thursday 22nd June, HM Coastguard rescue helicopters from Shetland and Inverness were tasked to partially down-man the platform.
"Seventy six non-essential personnel were transferred overnight by helicopter to other platforms in the area."