Orkney cliff fall tour guide named by police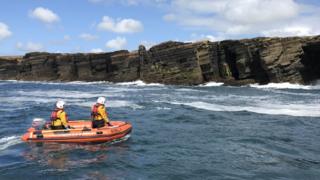 A tour guide who died when he fell from a cliff in Orkney has been named by police.
Jamie Shannon, 23, from the Stirling area, was fatally injured at Yesnaby on Monday.
He was working with an Edinburgh-based company, Haggis Adventures, guiding a minibus group on a tour of the Highlands and islands.
Police said inquiries were continuing but there were no suspicious circumstances.
In a statement other staff members at Haggis Adventures said he was "adored" as a colleague and a "best friend".
"He loved his job, he was incredibly fun, passionate and cared deeply for everyone he ever met. It will be absolutely impossible to forget the impact he has had on all of us at Haggis, passengers and staff alike." they said.
"His smile and laugh were infectious, we will miss his energy, his positivity, his loyalty and most of all his hugs.
"Nobody gives as good a hug as Jamie. To say he will be sorely missed is an understatement; Scotland came alive with Jamie at the helm, always with a smile."
A paramedic was lowered from a rescue helicopter and taken onto a lifeboat as part of the rescue operation on Monday..
Police Scotland later confirmed that Mr Shannon had died.