Workers asked for North Sea helicopter safety feedback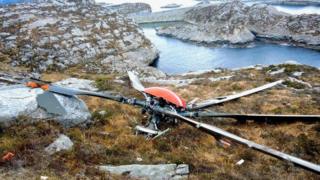 The manufacturer of a helicopter fleet banned from flying in the North Sea following a fatal crash is asking for safety feedback from workers.
A Super Puma 225 came down near the island of Turoey, near Bergen, Norway, last April.
Iain Stuart 41, from Laurencekirk, Aberdeenshire, was one of 13 people who died in the crash.
Airbus is asking pilots and passengers to take part in a safety survey which it hopes will help address concerns.
Its 225 and L2 Super Puma aircraft were grounded following the crash in Norway while the 225 was returning from an oil field.
'No explanation'
An Accident Investigation Board Norway report earlier this year into the fatal helicopter crash said there was no explanation as to why a detection system did not spot signs of damage to the gearbox.
The AIBN said a fatigue fracture in the gearbox led to a chain of events which resulted in the rotor becoming detached from the fuselage, which then hit an island and burst into flames.
The incident is still being investigated.
Europe's aviation authority lifted its flight ban in October, but the UK and Norwegian authorities have so far refused to follow suit.
Unions are calling for an independent body to collate and produce the safety survey's findings.
And one offshore worker, who did not want to be named, told BBC Scotland: "The lads I know in the North Sea are very much against the return of the 225 to service.
"I for one will not willingly fly in a 225 again, given the choice."