Part-time primary teacher course launched in Moray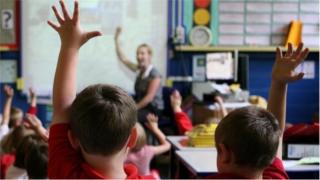 Aspiring primary school teachers in Moray can now study part-time towards the required qualifications.
A distance learning course has been launched by Moray Council in an attempt to tackle teacher recruitment issues.
The 18-month online course will allow students to study in their own time towards a post-graduate diploma in education.
It includes 18 weeks of placement and a guaranteed probationer year with Moray Council following graduation.
Moray Council is working in partnership with Aberdeen University to deliver the course through e-learning, face-to-face Saturday workshops and school placements.
Director of Education for Moray Council, Laurence Findlay, said the council aimed to "grow its own" teachers to meet demand for staff.
"This has to be the way forward to encourage more people to take up teaching," he said.
"Teaching is a rewarding career with lots of benefits, and I'm sure this new way of getting into it will suit many candidates who have existing work or family pressures."
Those applying must live within Moray and meet the same entry requirements of a full-time PGDE primary course.
Course fees are expected to be around £1,820, although applicants may be eligible for funding from the Student Awards Agency for Scotland.