'No concern' over Aberdeenshire council HQ cladding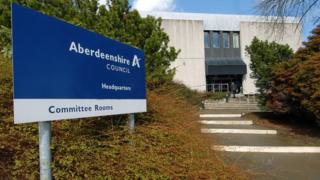 Similar cladding to that used on Grenfell Tower has been used on sections of Aberdeenshire Council's headquarters.
The local authority says decorative cladding used on Woodhill House in Aberdeen is similar to that on Grenfell Tower, but contains no insulation.
The council said there was "no immediate concern" about the cladding.
It said the building was considered to be low-risk and has effective fire detection.
But it said it would investigate the cladding further, and take advice from the Scottish Fire and Rescue Service.
Aberdeenshire Council has been carrying out an assessment of fire risk, sprinkler systems and cladding on all of its buildings, including schools and care homes.
The council, which does not have any multi-storey residential buildings, said schools of four storeys had already been checked and did not contain any cladding panels made of an aluminium composite material, which was used at Grenfell Tower.
All other schools in the area are now being checked.
Council leader Jim Gifford said the local authority had put in place a "robust plan of prioritising safety checks", which he said was a "sensible and measured response to the horrific scenes we witnessed in London."