Sir John Franklin's Arctic medal found in Orkney museum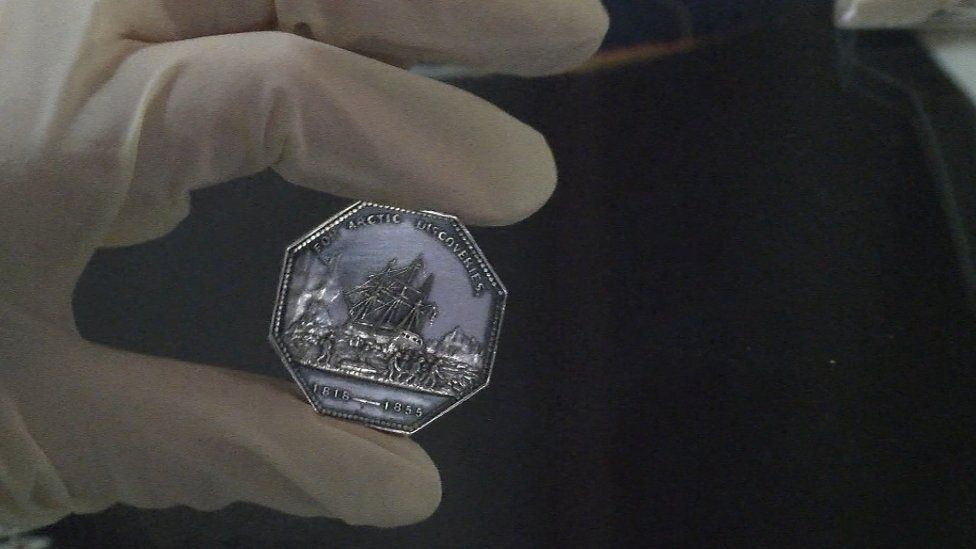 A medal that has been on display in Orkney's Stromness Museum for years has just been identified as one awarded posthumously to Sir John Franklin.
He led an ill-fated Arctic expedition to identify the North West Passage.
It isn't inscribed to Franklin but extensive research has established a direct link to Sir John, who perished along with his crew.
The significance of the medal was first recognised by keen medal collector Hiram Dunn.
He told BBC Radio Orkney at first he'd thought it might be a replica.
But when the museum told him it had been donated by Rosalind Rawnsely, he realised there could be a direct family link to Sir John Franklin.
But, he said, "nobody ever knew where Franklin's Arctic Medal was".
Janette Park from Stromness Museum said: "I'd always assumed that his medal would be in Canada or Greenwich. So I contacted the National Maritime Museum who said they didn't have it.
"And it turned out that the medal that had been put on show in Canada wasn't his medal.
"So after that we started doing some more research to try and find out if this could possibly be the medal that was awarded to Sir John Franklin."
Those investigations took almost two years to complete, but have confirmed Hiram Dunn's hunch.
Jeremy Mitchell from the National Maritime Museum at Greenwich said it was appropriate that Franklin's medal had ended up in Orkney.
"People forget that Stromness was (Franklin)'s last landfall, and the expedition spent three days here before disappearing off to the Arctic.
"And the last time they were seen was by whalers who probably would have stopped off at Stromness on their way to the whaling grounds in July 1845.
"Later on with the Franklin search expeditions, Lady Franklin comes up here with the Prince Albert - the ship she sponsored. And that ship went out twice to look for Franklin. So there's an important Franklin link not only with him, but with his wife, and the part Stromness plays in looking for him."
Hiram Dunn, who sparked the whole investigation said it had been "a revelation to find Franklin's actual medal". And, he said, "we were excited - extremely excited."
Jeremy Mitchell from the Maritime Museum agrees.
"To actually find his medal here is great because, if you look at the literature, people make a note that it's been missing. So, actually, it's not missing. It's here, and you can come and see it."
And Hiram Dunn says the moral of the story is "be inquisitive".
"If you're visiting a museum and you see something, ask somebody. They might not have the answer. But it did produce an answer."
The medal is now on show at Stromness Museum with a new label identifying it as having been awarded to Sir John Franklin.
Related Internet Links
The BBC is not responsible for the content of external sites.