New Aberdeen FC stadium hearing set for 13 September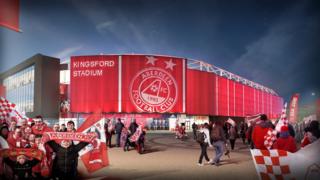 A pre-determination hearing into Aberdeen FC's plans for a new stadium on the outskirts of the city will take place in September.
The £50m stadium and training facilities would be at Kingsford, close to the Aberdeen bypass, near Westhill.
The hearing will take place on Wednesday 13 September at Aberdeen Town House.
It will give people who have written in about the application a chance to speak about it directly to city councillors.
Aberdeen FC said if planning permission was granted in October, it could still have the stadium completed in 2020.
Objectors say concerns include traffic and parking issues.
The club believes the new stadium is vital if it is to achieve a sustainable future.