Findhorn Bay wildfowl plans sparks division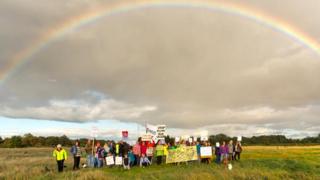 A deal to resolve a dispute over the shooting of wildfowl on a Moray nature reserve has sparked more division.
A new voluntary permit system had been suggested for Findhorn Bay after lengthy negotiations.
The deal would have seen no shooting on Mondays as well as Sundays.
However, the Scottish Association for Country Sports (SACS) said the scheme had been launched without consultation with its members, and could not be imposed.
The shooting season starts on 1 September and runs to 20 February.
'Right direction'
The Findhorn Bay Local Nature Reserve management committee system was announced on Tuesday.
At the time, Lisa Mead, of Friends of Findhorn Bay (FFB), said it was "a step in the right direction".
She added: "FFB went along with in the hope that it will bring some relief to the dire situation on Findhorn Bay during the next shooting season.
"However, we feel it is still unfair to local residents, especially those living in Kinloss, who will still be woken up extremely early in the morning by shotgun fire, five days per week for six months of the year."
SACS director Alex Stoddart said: "We represent the majority of ordinary men, women and young people who engage in sustainable and responsible harvesting of wild quarry.
"SACS and our members at Findhorn Wildfowling and Conservation Association have worked long and hard to attempt to find a middle way between the interests of local hunters and the interests of more recently settled residents who have an ideological objection to wildfowling."
He added of the permit talks: "In a modern Scotland, such a lack of community engagement is appalling."
'Sustainable future'
Colin Shedden, Scotland director of the British Association for Shooting and Conservation (BASC), said: "BASC has been involved in recent discussions involving wildfowling on Findhorn Bay and is supportive of the voluntary approach for the coming season.
"We hope that this will give wildfowling on the Bay a sustainable future.
"We expect that any lessons learned from this approach will guide the more permanent arrangements envisaged by Moray Council."
Moray Council's economic development committee is set to discuss the issue at a meeting next month.