Threats made to kill 'family from hell', murder trial hears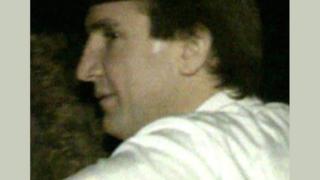 A man told detectives threats were made to kill a "family from hell" just hours before a man died in a blaze at his home in 1998, a court has heard.
Barry Henderson, 42, denies killing Gordon Graham, 43, and attempting to murder his wife Anne in Fraserburgh.
The High Court in Glasgow heard Jeff Simpson told police he had seen a fight 19 years ago.
He said in a police statement: "During the fight, there were threats made. Both sides made threats to kill."
Mr Simpson said he could not remember what had happened 19 years ago, but told prosecutor Jim Keegan QC that what he told the police in a statement given on 10 May, 1998, was the truth.
In it Mr Simpson, who at the time was a fisherman, said he saw Mr Henderson lying on the floor and being repeatedly kicked in the face and punched.
'Heat of moment'
He claimed that one of those assaulting Mr Henderson was Dean Graham - one of the sons of Gordon Graham.
In his police statement, Mr Simpson added: "Anne Graham, with a child in her arms, came running out of a flat and it appeared the Grahams had people coming from everywhere.
"I also know that Gordon Graham had appeared from the flat. He was in his bare feet. He was running about with his shirt open. I didn't know any of the others. There must have been 12 of them including the six involved in the assault."
Mr Simpson then told police that Henderson came running out of the shop and added: "It was at this time that Gordon Graham attempted to calm down his family.
"During the fight there were threats made. Both sides made threats to kill. I definitely said to the Grahams I would kill them. I also heard others say that.
"It was said in the heat of the moment and I did not mean it. I can't say who else threatened to kill them or vice versa."
The court has heard that the Grahams were dubbed the "family from hell" and had moved from Fife to Fraserburgh three years before the fatal fire.
The blaze happened in the Aberdeenshire town's High Street.
Mr Henderson denies all the charges against him and has lodged special defences of alibi and incrimination.
The trial before Lord Ericht continues.