Rescued sailor, 84, to attempt Shetland to Norway adventure again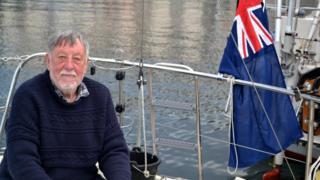 An 84-year-old yachtsman who was rescued between Shetland and Norway two years ago is to attempt the journey again.
Julian Mustoe's yacht Harrier of Down suffered rudder problems in strong winds, and then sank while being towed by coastguards.
A crowd funding appeal raised £10,000 to get him a new boat, Zepherus.
He now hopes to set off from Lerwick to Bergen in the next few days, depending on the weather conditions.
The 25ft Harrier of Down lost steering about 100 miles off the coast of Shetland in October 2015.
Mr Mustoe was rescued by a Norwegian Coastguard vessel after his stricken boat began drifting towards an oil platform.
The yacht was taken under tow, but sank.
It came within half a mile of Total's Alwyn North platform.
The sailor had lived on the boat for 10 years.
Mr Mustoe lost virtually all of his possessions when the yacht sank.
The experienced yachtsman said of his forthcoming adventure: "I am going to have another go at it.
"I'm going to take a second emergency rudder with me, so that if the same trouble occurs then I shall have an answer.
"My plan is to go to Bergen, and then sail down the coast of Norway."