Attacked Aberdeen prisoner to win payout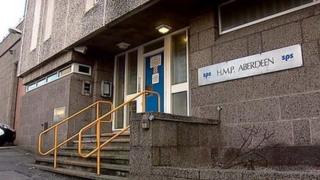 A prisoner who was the victim of a serious racially-aggravated assault while in Aberdeen's Craiginches Prison is to be awarded damages.
Daniel Kaizer, 35, claimed the prison system failed to protect him from Keith Porter, and raised an action against the Scottish government.
Mr Kaizer, from Poland, suffered a fractured skull after being attacked with a weightlifting bar in 2009.
A judge ruled in his favour. A further hearing will decide the payout.
The victim argued the attack was the culmination of an earlier threat made to him by Porter, and reported to a prison officer.
Lord Ericht said: "The facts of the current case fall within the circumstances in which prison authorities can be liable for assaults by one prisoner on another."
Porter - who had also tried to murder another Polish man - was given a life sentence under an Order for Lifelong Restriction following the attack on Mr Kaizer.
Mr Kaizer, a former construction industry worker, was on remand at the time of the attack. He was later given a 10-week jail sentence for assault.
Craiginches Prison closed in 2014.