Video in 1998 Fraserburgh murder trial now missing, jury told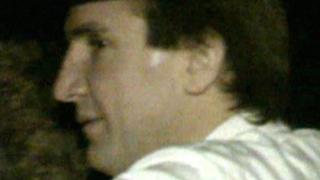 A security video which could contain evidence about the death of a man in a fire in 1998 is missing, a murder trial has been told.
Barry Henderson, 42, denies killing Gordon Graham and attempting to murder his wife Anne in a fire in Fraserburgh.
The High Court in Glasgow heard that a recording showing people and vehicles in High Street before the fire was seized by police.
However, police can now find no trace of it.
Retired police officer Douglas Rae told the court that he and a colleague took the video to the technical support unit in Dunfermline for enhancement in 1998.
A major incident property register showed the video was signed out on 5 May that year and returned on 9 May, but could not now be found.
Mr Rae told prosecutor Jim Keegan QC that a number of images were printed out as still photographs at Dunfermline.
When asked where the video was now, he replied: "I have no idea."
Defence QC Brian McConnachie said: "It might be an important piece of evidence," and Mr Rae replied: "Possibly."
Mr Henderson denies all the charges against him and has lodged special defences of alibi and incrimination.
The trial before Lord Ericht continues.