Mother calls for 2013 fatal helicopter crash inquiry soon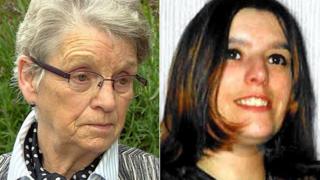 A mother who lost her daughter in an offshore helicopter crash four years ago has called for a Fatal Accident Inquiry to held as soon as possible.
Sarah Darnley, 45, from Elgin, was among four people who died in the Super Puma crash off Shetland in 2013.
Her mother, Anne, told BBC Scotland that relatives needed a conclusion.
The Crown Office said the ongoing investigation into the crash was highly complex and efforts were being made to carry it out as quickly as possible.
Mrs Darnley said: "We would like to see things concluded, but it's out of our hands. We are depending on the powers that be.
"It will be a big relief when it's over. Four years is a long time to be waiting.
"She had a great zest for life, really. She's all around me all the time."
Number of issues
A Crown Office spokesman said: "The investigation into the Sumburgh helicopter crash on 23 August 2013 by Police Scotland, working with the assistance of the Civil Aviation Authority and under the direction of the Crown, is ongoing.
"The Air Accidents Investigation Branch (AAIB) report covering the safety investigation was published in March 2016 and raised a number of issues that require to be considered as part of the wider investigation.
"We will endeavour to carry out our investigation as quickly as possible but the investigation is highly complex and challenging and requires specialist input from those with the necessary expertise in civil aviation.
"We will continue to keep the families advised of all significant developments."
A total of 18 people were on board when the Super Puma crashed on its approach to Sumburgh.
Gary McCrossan, from Inverness, Duncan Munro, from Bishop Auckland, and George Allison, from Winchester, also died.