Missing Aberdeen woman appeal made one month on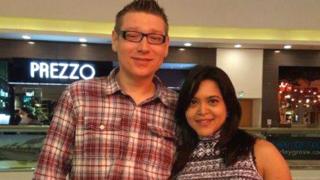 Police investigating the disappearance of a woman in Aberdeen who said she was heading to the beach have renewed an appeal for information one month on.
Nusrat Jahan was reported missing from her home on 27 July.
The 34-year-old, from the Duff Street area, had told a friend that she planned to visit the beach.
Officers are again appealing for information to establish if a woman seen climbing on wooden groynes at Aberdeen beach that evening was her.
A major search operation was carried out after the disappearance, but no trace was found.
Det Insp Stewart Drummond said: "It has been one month since Nusrat was reported missing to police and we have not seen or heard from her since.
"Our inquiries were scaled back once every possible place she may have gone that night had been thoroughly searched, however we will continue to react to any new information we receive until we establish for sure what happened to her.
"To date we have not been able to confirm whether a woman who was seen climbing on wooden groynes in dark clothing at around 6.15pm across from the Inversnecky Café was Nusrat or not. Was this you? Or do you remember seeing a woman doing this in the area that night?"
Ms Jahan is described as being about 5ft 3in tall and slim with dark hair.