First gas produced from field off Shetland using subsea technology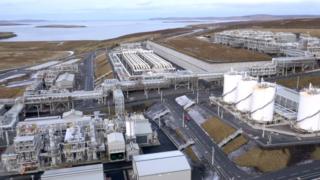 Oil company Total has produced the first gas from its Edradour-Glenlivet field west of Shetland.
The field uses subsea technology to pipe gas straight to Shetland without the need for an offshore platform.
Edradour-Glenlivet is an offshoot of the massive Laggan Tormore development which began producing gas last year.
Equipment sits on the seabed and the gas is piped straight to a purpose-built production facility near Sullom Voe.
Edradour-Glenlivet is about half the size of Laggan Tormore, but Total says it is economically viable because the wider infrastructure is now in place.
Arnaud Breuillac, president of exploration and production at Total, said: "The start-up of the Edradour and Glenlivet fields demonstrates Total's ability to deliver projects, taking advantage of favourable market conditions and simplifying designs to optimise execution.
"We have completed this project ahead of schedule and 30% under the initial budget.
"This development will contribute to our production growth in the North Sea."